Wearing a medical ID is an important action to protect your health and safety in the event you are not able to advocate for yourself. Emergency responders are trained to look for a medical ID because it can help them deliver the immediate treatment required.
Eastern Pennsylvania Bleeding Disorders Foundation and American Medical ID have partnered to ensure that you or your loved ones' have access to a medical ID. To qualify, you must be treated at one of the following six Hemophilia Treatment Centers:
Thomas Jefferson University Hospital
Hospital of the University of Pennsylvania
Children's Hospital of Philadelphia
St. Christopher's Hospital for Children
Penn State Hershey Medical Center
Lehigh Valley Hospital – Muhlenberg
What is medical ID?
A medical Identification tag (medical ID) is jewelry that could save you or a loved one's life. It allows medical conditions, drug and food allergies, prescribed medicines, and emergency contacts to be engraved onto the surface of a medical ID bracelet or necklace.
These medical ID bracelets and necklaces come in many different styles and variations. Through this partnership with American Medical ID, you may select a medical ID on this unique order form: CLICK HERE.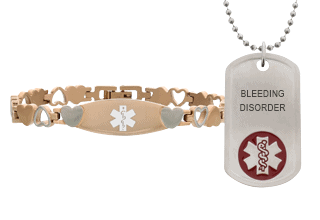 What to engrave for bleeding disorders?
Your Name
Medical Conditions: list the bleeding disorder. If there is not enough space to engrave the full condition name, consider using abbreviations or acronyms that are clearly understood.
Any allergies to medication, food, insect, metals, etc.
Any medication you take for your condition
Emergency contact information (ICE "In Case of Emergency") such as a phone number
How do I apply?
Please complete this form and email the completed form to info@hemophiliasupport.org or mail it to Eastern Pennsylvania Bleeding Disorders Foundation, Liberty Place at Kennett Square, 148 West State Street, Suite 305, Kennett Square, PA 19348.