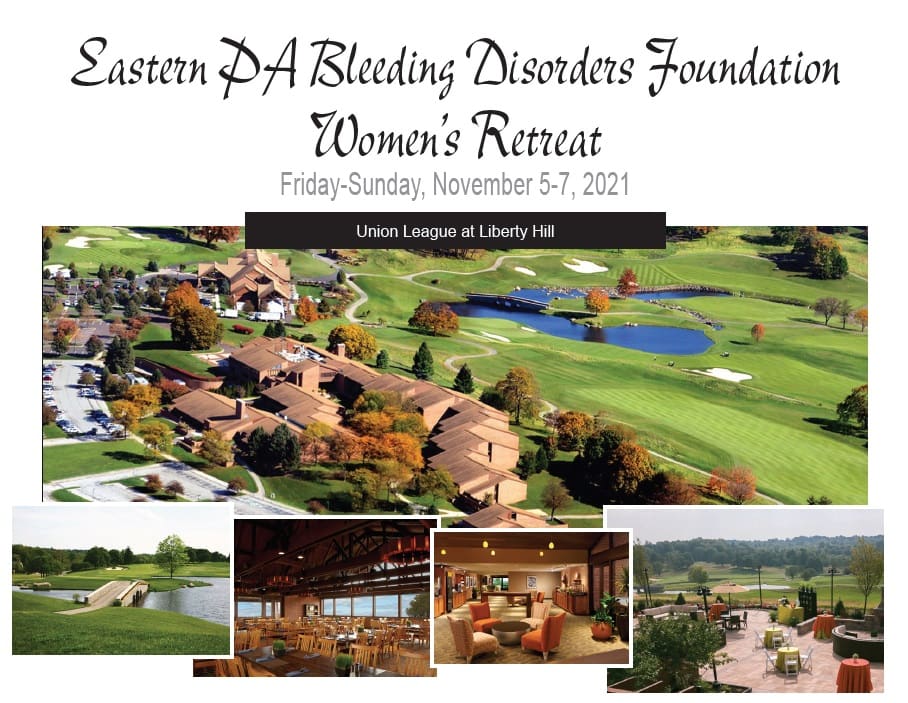 Friday, November 5, 2021-Sunday, November 7, 2021
Union League at Liberty Hill
800 Ridge Pike, Lafayette Hill, PA 19444
The Eastern PA Bleeding Disorders Foundation Women's Retreat is FREE for teens and adults affected by a bleeding disorder. The program will start with registration and the opportunity to mingle on Friday night. There will be a full day of programming on Saturday and half a day on Sunday developed and presented by staff from local Hemophilia Treatment Centers.

To keep the conversations intimate, there is limited space that will be filled on a first-come, first-served basis. Teens can bring one caregiver/family member. Room accommodations and meals will be covered for patients. The final agenda of topics and speakers will be sent to all registrants.

To apply for this program, please email the completed registration form to Lindsay Frei at info@hemophiliasupport.orgby Oct 22nd.
Phone: (484) 445-4282
Featured Speakers Include:
Peter Cygan, MD – Penn State Hershey Medical Center HTC
Tonya Wright, MD – Penn State Hershey Medical Center, Women's Health Division
Elsa Amaral PT, DPT and Sarah Dunn, PT, DPT – Hospital of the University of Pennsylvania HTC
Sue Cutter, SW – Hospital of the University of Pennsylvania HTC
Holleh Husseinzadeh, MD and Sharon Littig, RN – Thomas Jefferson University Hospital HTC
Michelle Dolt, MSN, RN, CRNP – St. Christopher's Hospital for Children
Melina Martin, LCSW – Children's Hospital of Philadelphia
Christina Adenuga, MSW – Children's Hospital of Philadelphia