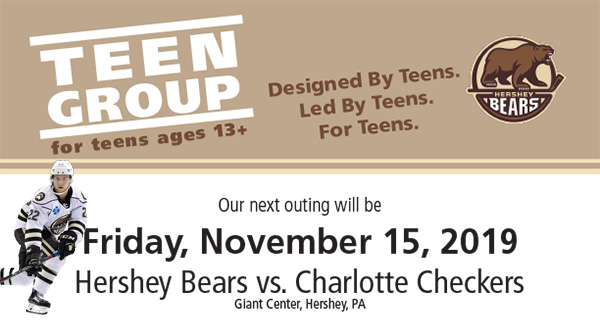 Filled
For teens ages 13+ with either hemophilia, VWD or other clotting factor deficiencies. Tickets are free of charge and are available on a first come, first served basis. Teens may bring one caregiver.
Registration includes dinner and a program.
Game On! Presented by Bayer
Adulting with hemophilia…
Level up and begin taking control of the game. This interactive program helps young adults go forward with tips on personal accountability for their treatment, staying healthy, maintaining insurance coverage, and planning for college/technical school and a career afterward – all that grown-up stuff we all need to know.
at What If…Of Hershey
at 5:30PM (845 E Chocolate Ave, Hershey, PA 17033).
Hershey Bears tickets will be distributed during dinner. Programming provided by Bayer.
Designed by teens. Led by teens. For teens.
To register, contact Kat Kocsi by email (katk@hemophiliasupport.org) or by phone (484-445-4282).